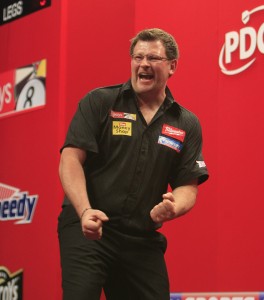 James Wade boasts an impressive seven major titles, making him the second most successful player in the history of the PDC.
The Machine has won both the World Grand Prix and UK Open twice. He has also triumphed in the World Matchplay, Championship League and the prestigious Premier League, and at the age of just 29, the evidence suggests that more major glory awaits.
Wade reached the final of the British Classic when he was only 18, but his surge to darting prominence came in 2006, having switched to the PDC two years earlier. He put together a sensational run to the final of the World Matchplay, beating some established names along the way. He also hit an unprecedented three nine-dart finishes in that calendar year.
The left-hander went one better the following year as he returned to Blackpool to win the tournament. He beat Terry Jenkins in the final to claim £50000 in prize money and to become the youngest ever player to win a PDC televised major. Wade went on to make it back to back major victories when he beat Jenkins again to win the 2007 World Grand Prix in Dublin. He went on to be crowned PDC Player of the Year for 2007.
In 2008, Wade became the first player to beat a dominant Phil 'The Power' Taylor in the Premier League, before adding another major title to his growing collection. He beat Gary Mawson to win the UK open. Wade, from Aldershot, went on to reach a third successive World Matchplay final and also made it to the final of the Las Vegas Desert Classic, but was unable to overcome Taylor on either of those occasions.
It wasn't long before Wade tasted televised glory again, this time winning the hugely popular Premier League in 2009 with a 13-8 victory over Mervyn King.
The following year Wade was involved in what is regarded as one of the greatest finals of all time. The Machine was attempting to defend his Premier League crown and pushed Taylor all the way but was beaten 10-8 as it took two nine-darters from The Power to deny Wade another title. He also made the final of the Grand Slam in 2010.
Wade claimed his most recent major success in June 2011, beating Wes Newton to win the UK Open for a second time.
He is currently ranked as the third best player in the world and is always regarded as one of the favourites in every event he plays.
James Wade Fact File
Nickname: The Machine
Date of birth: 6 April 1983
Home town: Aldershot
Darts used: 20g Unicorn James Wade
Walk on music: Bonkers by Dizzee Rascal
Major titles: World Matchplay, 2007
World Grand Prix, 2007 & 2010
UK Open, 2008 & 2011
Premier League, 2009
Championship League, 2010
James Wade – Official Facebook Fan Page